Aruna Technology offer a full range of survey services including control survey, engineering survey, topographic survey and cadastral survey. We use the latest equipment from leading manufacturers and follow international best practice to ensure high quality results. Whether you need ground control for aerial survey, leveling for construction and site development or positioning measurement using total stations, you should talk to us.
Due to the uncertain cadastral or ownership information, Aruna Technology provides an independent service to measure land to determine boundary lengths, road offsets and land area. Such services are invaluable to potential purchasers or those wanting to confirm their holdings. Valued for our professionalism and high standards, we have been entrusted to measure land for many international and domestic clients for projects both large and small. Please feel free to Contact Us for a free quotation.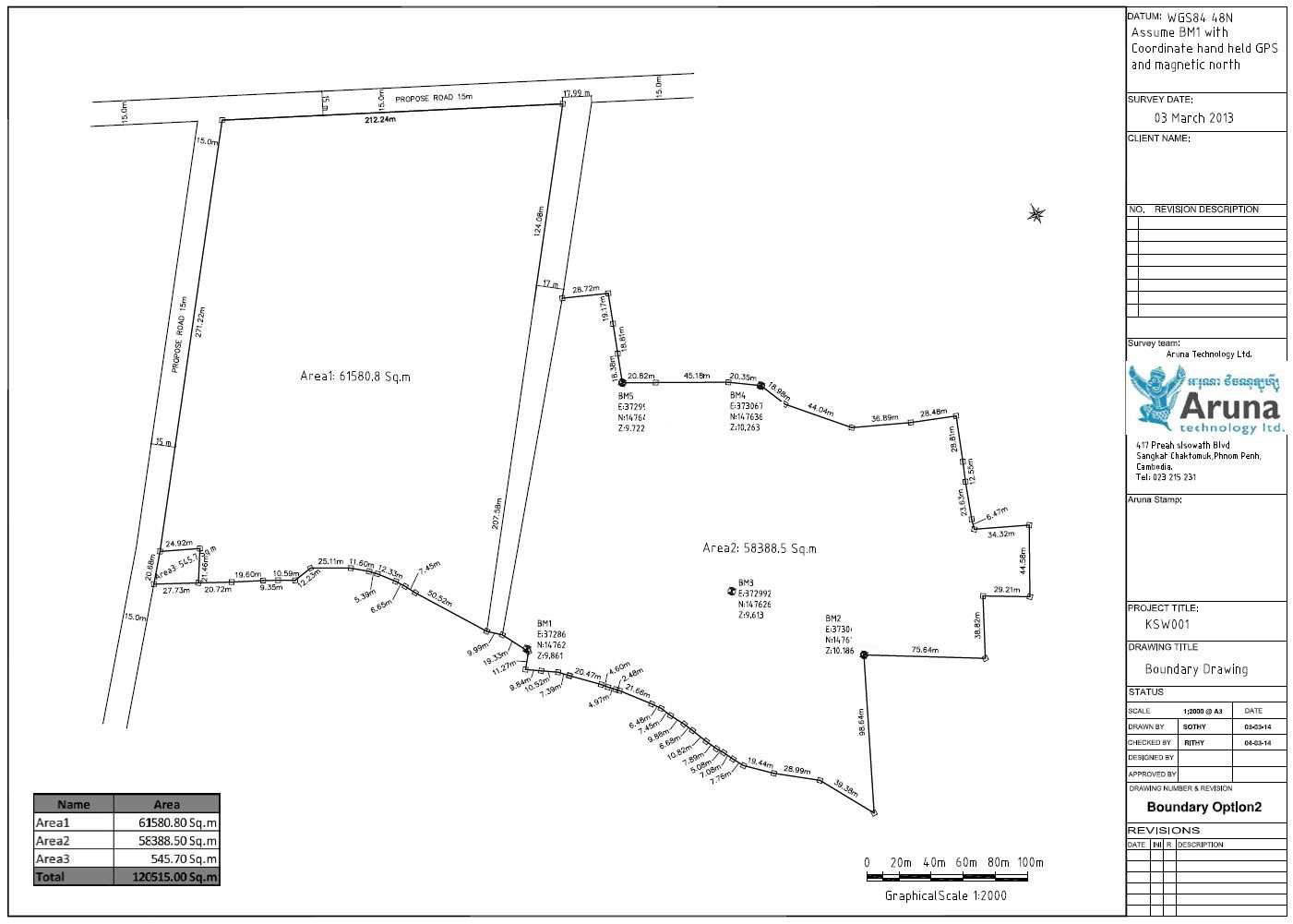 Drainage Survey of Cambodia's International Airports – Société Concessionnaire de l'Aéroport (SCA)
The purpose of this project was conduct a topographic and obstacle survey on Siem Reap and Phnom Penh airports, in order to obtain the data necessary for the study of the conformity to the International Civil Aviation Organization standards. The scope of work included:
Liaise with client, obtain permits and permissions related to survey;
Install temporary benchmarks;
Conduct level and horizontal control surveys to international standard;
Conduct topographic survey of drains, canals and ponds;
Record water levels and invert levels etc;
Prepare plan and cross section diagrams.
Topographic Survey of Mongkol Borei and Daun Tri Dam Sites
Aruna Technology were engaged by the Korea Water Resources Corporation to conduct a topographic survey of Mongkol Borei and Daun Tri Dam sites for a feasibility study in Battambang Province. The scope of work included:
Establish benchmarks and conduct GPS control survey;
Acquire high-resolution satellite imagery and prepare DEM from stereo pairs;
Conduct topographic survey at dam site for detailed design;
Survey cross sections of river downstream of dam site
Prepare site drawingsin plan and profile view.
Survey of Cambodia's Railways
The rehabilitation of Cambodia's railways is a major ADB funded project that seeks to bring the railway back into full commercial operation. Aruna Technology was contract by TSO France to survey the entire 650km line in its present condition and to allow re-design and upgrade to a modern railway system. The specific tasks undertaken by Aruna included:
Survey design and verification;
Establish benchmarks and conduct GPS control survey;
Conduct leveling survey with high degree of precision;
Survey horizontal alignment and cross sections every 20m;
Prepare site drawings in plan and profile view.