GIS Software
ESRI GIS Software – ArcGIS
For more than 30 years, ESRI has been providing leading edge technology to today's most successful companies and organizations. As a leader in GIS Technology, ESRI offers innovative solutions that will help you create, visualize, analyze, and present information better and more clearly.
Aruna Technology Ltd. is the only authorized ESRI reseller in Cambodia. We offers the full suite of ESRI software and support services and our staff include ESRI certified trainers.
ArcGIS is an integrated collection of GIS software products for building a complete GIS. ArcGIS enables users to deploy GIS functionality wherever it is needed in desktops, servers, or custom applications; over the Web; or in the field.
ArcGIS for Desktop
Advanced Analysis and Geoprocessing – Increase understanding and improve decision-making using powerful modeling and analysis tools.
Full Cartographic Production Process –  Automate many aspects of cartography, making intelligent map production a less time-consuming task.
Powerful Editing Tools – Simplify data design, input, and cleanup with advanced editing capabilities.
Please Contact Us for more information, or visit ESRI's Website for detailed product information.
ArcGIS for Server – Deliver GIS as a Service
ArcGIS for Server gives you the fine-grain control you need to provide secure, reliable GIS services to every web, mobile, and desktop application in your organization.
Deliver Maps and GIS Services – With ArcGIS for Server, you get complete control and centralized management over how and where your GIS services are delivered.
Respond to the Demand for GIS – ArcGIS for Server provides you with a scalable GIS server platform that gives you total supervision of all your maps and GIS services.
Power Applications with GIS – ArcGIS for Server gives your enterprise applications access to powerful GIS capabilities and server-side processing.
Click Here to Learn more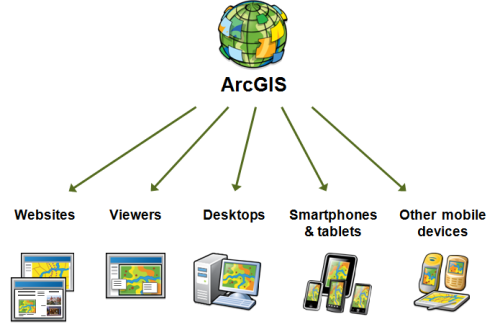 eCognition Software
eCognition is the original object-based image analysis software. And it's remained the solution of choice for industry leading data providers, value adders and remote sensing professionals for nearly a decade.
eCognition Developer
eCognition Developer is a powerful development environment for object-based image analysis. It is used in earth sciences to develop rule sets (or applications for eCognition Architect) for the automatic analysis of remote sensing data.
Features & Benefits
Superior collection of object-based image analysis tools and algorithms
Analyzes raster, vector and point cloud data
Dual startup – easy to use QuickMap & traditional Developer mode
Intuitive development environment
Scalable from a single desktop to enterprise production workflows
Software Development Kit (SDK)
Online access to ruleset resources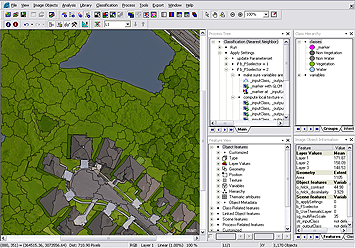 eCognition Architect
eCognition Architect enables non-technical professionals such as vegetation mapping experts, urban planners or foresters to leverage eCognition technology. Users can easily configure, calibrate and execute image analysis workflows created in eCognition Developer.
eCognition Server
eCognition Server software provides a processing environment for batch execution of image analysis jobs.
Please Contact Us for more information or read more at the Ecognition Website